In a Rock N' Roll world, the one thing decide all "your" career, that it's a guitar! How much is you guitar worth? Beauty is in the eye of the beholder, but I'll bet you'll be amazed once you see the price tags on these babies! Check out the 10 most expensive guitar in the world, and start saving up.
It's definitely worth noting that Eric Clapton's guitar hold positions 4, 5, 6 and 9, with a combined value of just over $3 million, which is slightly higher than the single most expensive guitar, a Fender Stratocaster, which sold for $2.7 million.
The List of the Most Expensive Guitars
10. Leo Fender's Original Fender Telecaster Prototype
Leo Fender's original prototype shaped the fate of history in some sense, especially for the guitar Manufacturer Fender. The guitar was made in 1949, and was sold to a private collector in 1994 for $375,000 which was the highest amount for any guitar at the time.
9. Eric Clapton's Gold Leaf Stratocaster
Clapton is not necessarily known for his ego, but in 1996 for one Fender order says the contrary. The guitar was ordered by Clapton in 1996, around the 50th anniversary of Fender. Clapton wanted something that could hang in a museum, so the company made him a custom Fender plated with 23 carat gold. It was sold at an auction one year later for $455,000.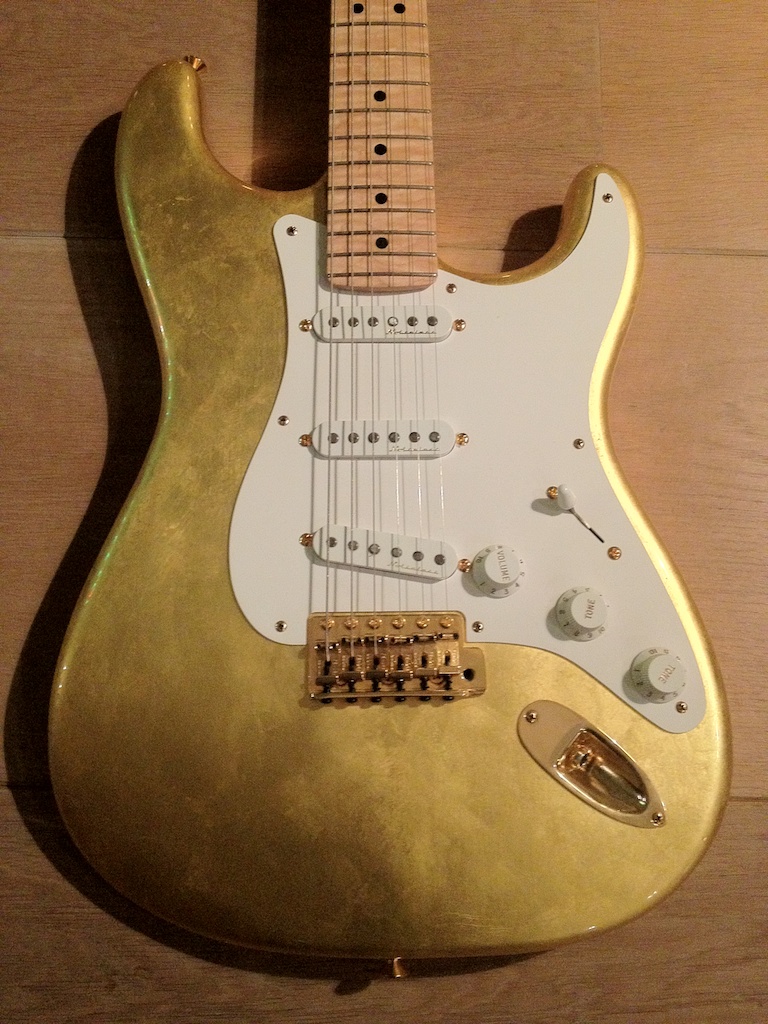 8. George Harrison & John Lennon's Gibson SG
Both Beatles members used this guitar at one time or another, George for recording the album "Rover", and John for "The White Album". It sold at an auction in 2004 for $570,000.
7. Stevie Ray's "Lenny"
Stevie Ray got this guitar from his wife Lenny in 1980. He played it religiously until his death. Vaughan's 1965 Fender Composite Stratocaster was sold for $623,500 in 2004.
6. Eric Clapton's 1939 C.F. Martin & CO
This acoustic guitar owned by Eric Clapton was sold for $791,500 and money was donated to Crossroads Rehabilitation Center.
5. Eric Clapton's 1964 Gibson ES0335
It is interesting to know, that Clapton used this guitar for exactly one year, and than very rarely afterwards. Apparently, he didn't like it much, but it still sold for $847,500 at a charity auction.
4. Eric Clapton's Blackie Guitar
The story behind this Stratocaster is very interesting. Eric Clapton bought 6 vintage Strats at a guitar shop in Texas one day, all for $100 each. He gave 3 of them to his friends, and disassembled the remaining 3, and used the best parts of each to put Blackie together. He used this guitar from 1973 to 1985, eventually being sold at an auction for $959,000.
3. Bob Marley's Washburn
This guitar was given as a present from Marley to a guitar technician, Gary Carlsen, who later founded a charity in honor of the reggae icon. It now has an estimated worth of $1.2 million. This instrument is classified as a national asset by the Jamaican government and is one of the only seven guitars owned by the reggae icon.
2. Jimi Hendrix's 1968 Strat
Jimi Hendrix played this guitar at Woodstock in 1969, after which it disappeared, only to reemerge in 1990. It has passed hands 2x since then, the last time to Paul Allen of Microsoft for $2 million in 1998.
1. Tsunami Victim Auction Fender Strat
This guitar wasn't played by any stars. This instrument is signed by: Mick Jagger, Keith Richards, Eric Clapton, Brian May, Jimmy Page, David Gilmour, Jeff Beck, Pete Townsend, Mark Knopfler, Ray Davis, Liam Gallagher, Roonie Wood, Tony Iommi, Angus and Malcom Young, Paul McCartney, Sting, Ritchie Blackmore, Def Leppard and Bryan Adams.
This guitar was sold in an Tsunami relief auction in Qatar for $2.7 million in 2005, making it the most expensive guitar ever.