Mark Knopfler got his first Strat only shortly before Dire Straits were formed. Before that time he had played a Gibson Les Paul Special through a Selmer tube combo amp in a band called The Café Racers. It is not clear if he owned the Selmer amp or if it was borrowed. What we know is that when he got the Strat, he plugged it into a Fender Vibrolux amp which probably belonged to Dire Straits bass player John Illsley, but today however it is still in Knopfler's possession.
This amp was a Fender Vibrolux from the early 60's from the brown-tolex era. Fender called this model 6G11 for first revision, or 6G11-A for the second revision. The brown Vibrolux is a really wonderful amp with about 30 watts from two 6L6 tubesit has enough power to be played in a band with drums and bass. It has one 12" speaker an Oxford 12L6 or 12M6 and a tremolo effects.
The controls are pretty much standard with volume, treble, bass and two tremolo controls (Speed, Intensity) which affect both channels. The Vibrolux does not have a Fender logo on the front grill cloth – the one on Knopfler's amp is not original.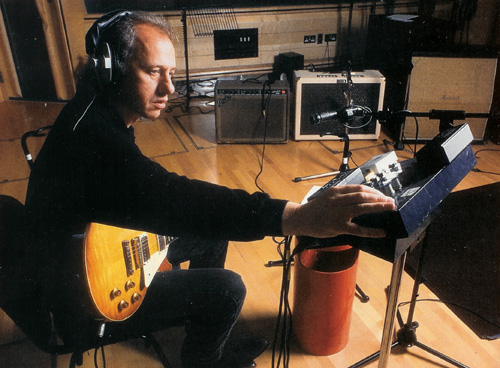 Mark played this amp live in 1977 and early in 1978, there is only a limited number of live pictures from 1977 and most do not show any amps. We have the following sources from this period that mention the Vibrolux. First Knopfler himself said in a an interview that "Sultans of Swing" was first written in open tuning on a National steel guitar, but it was totally changed when he got his Strat and played it through the Vibrolux.
There are two pictures from an early live gig at the bandstand on Clapham Common, London, September , 1977 – two months after recording the demo of "Sultans of Swing", five months before the recording of the first album in February 1978.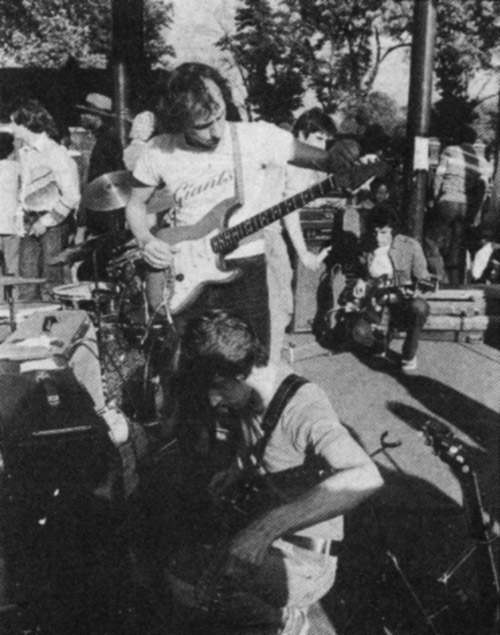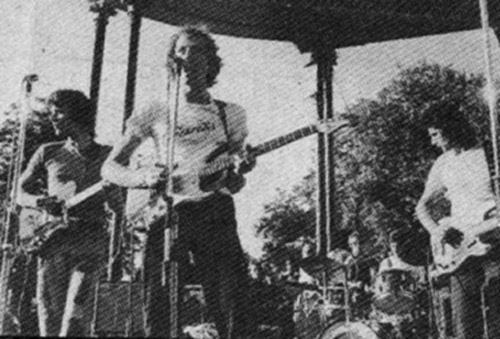 In one interview with Chas Herington who was the engineer on both the demo and the single version of "Sultans of Swing" – who both are recorded at Pathway Studio in July 1977 and April 1978, the song was re-recorded two months after the recording of the first album, because the record company wanted more of a rock sound for the single. He also said that it was mic'ed with a Neumann microphone.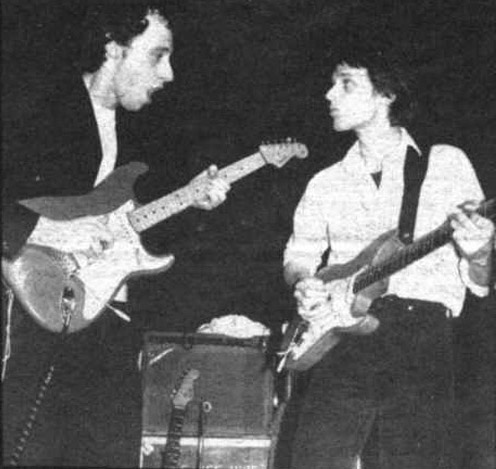 There is no evidence that this amp was played on the "Sultans of Swing" version of Dire Straits first album recorded in February 1978. Possibly different amps were used here Twin Reverb, Jazz Chorus and the Vibrolux. In about May 1978 Knopfler started to play Fender Twin Reverbs on stage. The Vibrolux reapperad with The Notting Hillbillies and is still frequently used these days in Knopfler's British Grove Studio.