It's so much a part of the fabric of rock history now that it's strange to think that "Sultans Of Swing" missed the charts altogether when it was first released 39 years ago by Dire Straits, on 19 May, 1978.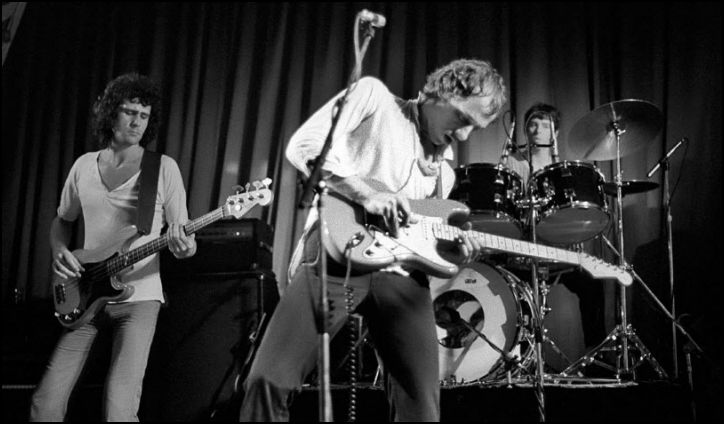 The Mark Knopfler composition was, however, still part of the upward curve for the band during that year. They'd been supported by BBC Radio London, notably on broadcaster and writer Charlie Gillett's show for the station, and were rapidly gaining a reputation as one of the hottest live bands on the circuit — almost living out the life of the funky little band described in the song's lyric.
"Sultans" not only continues to be heard on radio, TV, in retail outlets and many other places to this day, but had an influence on Knopfler's current solo album Tracker, especially on the song "Beryl". "I think there was a definite nod to the early Straits with 'Beryl,'" he says. "That was a deliberate thing, going back to a period because it seemed to suit the song. I took a sort of "Sultans of Swing" approach to it for that reason, because it's something you'd associate with a time."
Knopfler also remembers the early days of sweat and toil when Dire Straits really were playing the role described in "Sultans Of Swing". "You're just going from gig to gig hoping to keep it all together," he says, "and hoping to get onto a tour, which we managed to do. You just take it on from there."
In the month that the single was released in the UK (the first time), Straits toured with the Climax Blues Band, and did European shows opening for Styx. In June, they played their first headlining UK tour, but "Sultans" didn't become a hit until the new year of 1979, when the band made the US charts with their self-titled debut album and then the single, which climbed all the way to No.4. Back in Britain, it reached No.8, and they were well and truly on their way.