This post is about the partnership between "Africa is a Country", and "Afropop Worldwide". They recently made a documentary movie called "Accounting for Taste" that explores musical influences of North American musical traditions on various national sub-cultures in Africa.
What becomes evident while listening to the show is that for better or worse, music in the United States often seems to have a specific racial or cultural connotation connected to it — highlighting divisions in a deeply divided multi-ethnic society.
However, once transpose across national boundaries sometimes becomes an interesting way to know the map of sounds which people love to listen. Deeper into the subject here, you will explore the popularity of Dire Straits in the Tuareg communities of North Africa.
When Tinariwen released album "Amassakoul" in 2003, they gave the world first taste of Tuareg popular music. Dominated by electric guitars and driven by a hypnotically repetitive groove, the group held an obvious appeal to audiences raised on rock. The album was been filled with interlocking riffs and passionate vocals.
For a band who was isolated from desert regions of the Sahel this kind of success was virally powerful. Tinariwen managed their moment to a brilliant career leaving a trail of articles about the "raw of rock" and "desert freedom fighters" in their wake. It can become difficult to separate the hype from what is inevitably a more complex reality. And that's why the Dire Straits name checking was such a remarkable detail.
Pretty much any time a journalist asked a member from Tinariwen or one of the many other Tuareg groups that followed in its wake about their influences, they would mention the obvious legends like Jimi Hendrix, Bob Marley and Dire Straits with "Sultans of Swing".
100 percent of the people who have ever picked up a guitar claim to be influenced by Hendrix, and basically everyone born after 1970 loves Bob Marley. But these Tuareg groups are only African musicians who had even mentioned Dire Straits. To understand it's necessary to go back to the beginning of Tuareg popular music.
Tinariwen, Tamikrest, Toumast, Terakaft, Bombino, Tartit, Amanar, Mdou Moctar…Given the number of Tuareg groups currently performing on stages around the world, that nomads who live in the vast northern regions of Mali, Niger and Burkina Faso have long had a tradition of guitar-based music.
Surprisingly, nothing could be further from the truth. In fact, go back to the early 1990's, and you'd be hard pressed to find more than a handful of Tuareg guitarists, let alone a thriving scene of bands. Traditionally, Tuareg culture is a matrilineal (a holdover from pre-Islamic times), and their music is no exception.
While the men would sometimes sing hunting or herding songs, for the most part, music-making was a female responsibility. This began to change as events in surrounding areas began to transform the Tuareg way of life.
When the nations of West Africa gained independence in the 60's years, the traditional homeland of Tuaregs was split among the new countries, and then the nomads were now citizens who had to passed law in far-off capitals, and their migrations were border-crossings who many of them do that illegal.
Tuaregs were living in Mali revolted about new the government in 1962, revolution was put down and the Malian military was often brutal, killing and displacing families. As a result thousands of Tuaregs fled north across the desert to Libya and Algeria. This movement was accelerated by the droughts that began to ravage the Sahel in the '70s and '80s.
While that politician combination, Tuaregs have always been nomads, this movement was new for them. Many of the Tuareg people who crossed the borders and walked across desert hundreds of kilometers with only five liters of water had become a politically marginalized minority on the outskirts of settled society.
That period was brutal for them, It made an opportunity for them to find their own exit in music. Tuareg men who lived sometimes without any women around, began to perform music, at the same time they made a new form of Tuareg nationalism as revolutionary movement.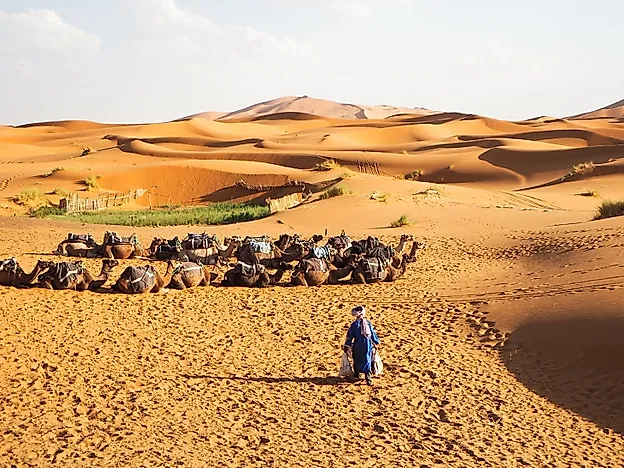 Tinariwen was directly tied to the new political consciousness. They used music to spread revolutionary propaganda in the form of poetry, groups started to make a listeners and during the fighting in the 1990' the music of Tinariwen was copied from tape to tape, because listeners became more and more.
Then somehow politics created space for pop music. Firstly there was only traditional music who was more connected to youth culture. When a fitful peace was reached in the middle of 1990's a new generation of musicians sprang up to follow the example of Tinariwen.
This seems to be a perfect moment when Dire Straits became the touchstone for developing music. As a result of movements during 80's and 90's years, a steady stream of guitars and tapes had begun into the desert.
Young Tuaregs have wanted to listen to their own music, Tinariwen was really only band who has any recorded material then, musicians and fans had to look beyond their borders for sounds. And what they found, were massive superstars like Marley, Hendrix and Dire Straits which were in the culmination of their music career and European rock market in the middle of 80's. People now have the opportunity to listen this stars free.
Special style of Hendirx and Knopfler made their bands and solo careers to became simple the biggest in that period with a bunch of music hits and songs which many people listening and today. That was the chemistry of their success and their special skills who made music which was some kind of addict to listeners and fans.
While they listened to that music from the big names and bands, It was inspiring for Turage music and groups which were into making songs. Tuaregs made their own style of music, and that was their own choice of creation and picking competing influences in an effort of their traditions current needs.